Dear Visitor,
My name is Elodie Anguissa. It's my pleasure to meet you. I enjoy hiking, singing, shopping, and eating good food. I am also globe-trotter who is keen on meeting new people and discovering new cultures.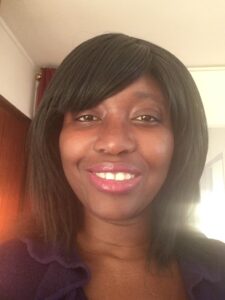 Besides, I am a freelance direct response copywriter, translator, and ghostwriter. However, in another life, I've worked in the banking and financial industry in the last 10+ years. I graduated in Finance (MSc, with honours) in Sorbonne University in Paris, France.
During my first year in copywriting, I've worked for many small businesses. I was able to help them to improve their content and increase their visibility on the Internet. However, after a long period of reflexion, I decided to open my services to translation and ghostwriting as well.
Why You Should Work with me
My enthusiastic and conversational style will help you to make your industry understandable and relatable to your targeted audience. Thus, through my writing skills, you will increase your ROI on your investment in professional copywriting.
Also, I am driven by values which have been my compass since I've started my copywriting business:
Quality of service
I am a very dedicated copywriter. Indeed, I will learn everything about:
your business
your clients
your products and services
your prospects
your competitors
Therefore, this research will enable me to create a well-written and persuasive copy that will engage your existing and future clients. I go the extra mile to offer you creative and qualitative deliverables that are tailored to suit your needs.
Professionalism
I will coordinate your copywriting project from its conception to its total completion and delivery. Moreover, I'll also deliver your project on time. I also work closely with my clients during the whole duration of the project.
In addition, I am a member of the Professional Writers' Alliance, which is a testimony of my professionalism and my dedication to long-lasting copywriting skills.
Versatility
I've worked on different copywriting projects. This means that I am not afraid of new challenges. On the contrary…they even energize me!
For this reason, my copywriting and content writing portfolios are rather eclectic. I've worked on many projects, including email marketing, blog articles, sales letters, website copy, and more. I am rather versatile and I can work on any beauty and wellness copy you want. All you have to do is ask what I can do for you and your brand.
Long-term relationship with my clients
One of my chief aim is to develop a long-lasting and trusting relationship wtih my clients. I always enjoy to see my clients coming back to me to be assisted in their new projects.
How Do I Proceed?
Learn about my business process below: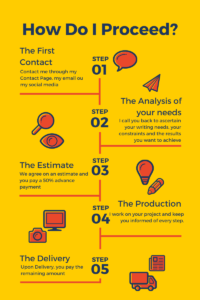 As you can see, my business process is easy and simple!
To sum up, with ECA Copywriting, you'll enjoy:
an enthusiastic and professional copywriting service
my marketing acumen
a tremendous knowledge in copywriting and content writing
an ability to capture and transcribe your voice
copy that will take your brand to the next level
Also, I truly value your projects. That's why I look forward to being your go-to direct response copywriter in the long run.
Do you have any question on my background, my skills, and services? Feel free to contact me through my Contact Page.
Meanwhile, you can also visit my Copywriting, Content Writing and Ghostwriting Portfolios to get a glimpse of my work.