Did you know that content marketing is expected to have a 16% year-of-year growth for 2021-2025?
Yes, you read it right. This means that content writing is not going anywhere. Actually, it's even more important than ever in the marketing strategy of companies and marketers.
With 600 million blogs and 82% of traffic coming from YouTube videos, content marketing has won the mainstream audience's heart. Consequently, more and more companies have set up a content marketing strategy to answer their audience's needs and show their expertise.
Nevertheless, if you're a beginner, you may feel overwhelmed in creating content. You may even think that the content you've written is not performing the way it should. If this is your case, this article will guide you. After the 4P approach of copywriting, I am presenting you the 4C approach to improve your content writing.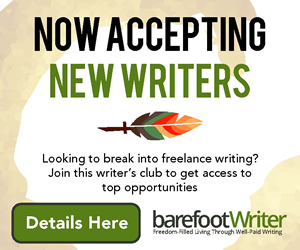 What is content writing?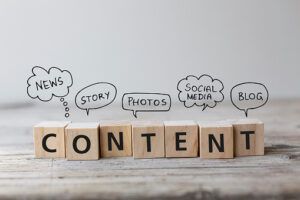 Besides copywriting, companies and marketers publish content that doesn't sell anything. Instead, this content will provide useful information that will help the reader. Moreover, it will solve their audience's problems and generate interest in their products and services.
And this is where content writing intervenes.
What are the main types of content writing that you may encounter?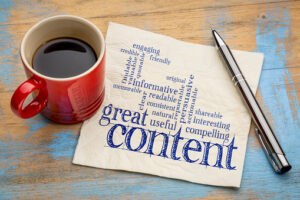 Do you think that content writing only concerns your own blog posts? In that case, you are wrong.
Because content writing encompasses many types of written medium aiming at helping their readers and raise their interest. Here are some examples of content writing:
social media posts
guest posts on other people's blogs
web pages
press releases
reports, checklists, and FAQs
e-books and free guides
YouTube videos
snack content (e.g. TikTok videos)
and more!
What is the goal of content writing?
Content writing has several goals:
attract the attention of potential customers to your products/services
make your audience aware of problems they may be struggling with, and introduce your product/services as the solution
get your potential customers to know your business
showcase your expertise to your readers
To sum up, content writing doesn't sell but it's a major part of any company's marketing strategy. However, the main challenge for companies and marketers is to produce high-quality content that will mesmerize their audience. Fortunately, there's an infaillible approach to improve your content: the 4C. Let's examine what this approach looks like!
The 4C Approach to improve your content in a minute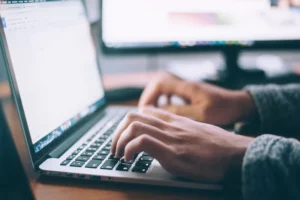 Indeed, like copywriting, content writing must persuade the readers. However, when copywriting must persuade the reader to take a specific action, content writing prepares the reader for your offer.
You must give away useful and precious information to your readers so that they will be interested in your product in the end.
That's why the 4C approach will help you to write any content you need:
Capture
Claim
Convince
Close
Capture
Your readers are busy and are sought after by many of your competitors. Moreover, according to research carried out by Sitecore Product Marketing Director in 2021, 47% of consumers experienced digital fatigue. This leads them to seek downtime from the Internet.
Consequently, you need to stand out from the crowd. How? By capturing the attention of your readers.
You can do this by using several techniques:
use a startling statement
start your content with a short phrase or an opener that doesn't finish a thought – stir your reader's curiosity!
open your content with a quote, especially when it is not very well-known
use a surprising or impressive statistic related to your topic
Claim
Have you got your reader's attention? Fine! Now, you must hold onto it – and that's the role of the claim.
The Claim is what your content is just about. Thus, you tell your readers what you will address in the rest of your content.
The Capture and the Claim will be part of your introduction. However, the Claim is more important because it generates interest in your topic and promises useful and valuable information to your audience.
Convince
Actually, the Convince phase is the body of your content. You are convincing your reader to agree with you on the topic you address. To do so, you can change your audience's way of thinking or persuade them to take new action.
You can convince your reader with the following ways:
building a logical argument to get approvals for a new idea
sharing lists
telling stories and relate them to your Claim
giving the steps to properly accomplish a task
Writing a long-form content (e.g. an e-book) will require you to use all these techniques. However, for shorter content forms (such as 500 to 1,500-word articles), you might just use one or two of these techniques.
And don't forget to back up your statements…
Moreover, to convince your reader, you must back up your statement with proof. Otherwise, your content won't help you to build trust and credibility.
You can prove any of your statements in your content with these three simple ways:
statistics from a reputable source
quotes from renowned experts
case studies or stories from real life
Does this sound like the Proof of the 4P approach in copywriting? Yes, it does. And you'll be right to assume that because content rating also needs to persuade your readers to be interested in your products/services.
Close
Now that your clients are interested in your content, what do you do? Most content writers just fizzle out after delivering the promise they introduced in the Claim stage. But you don't have to be like that. Consequently, the Close stage is very important, since it's one of the most difficult to achieve in content writing.
Therefore, you must know what you want before choosing the appropriate closure. Do you want your reader to follow you on social media? Do you want them to be interested in your products? Or something else? Once your goals are clear, your closure will come up easily.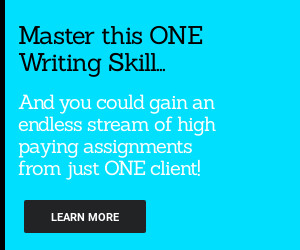 Some other rules to improve your content writing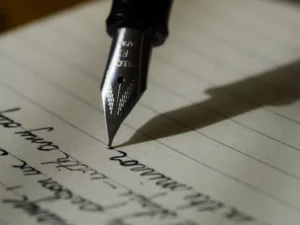 Have a conversational style
Your content must be read like you have a chat with your friends. This will not be applicable if you work with B2B companies, though.
Break grammatical rules
Do you remember when you were told to always respect grammatical rules in your essays? Well, in content writing, you'll put this recommendation behind you. Because you'll use lots of contractions and short sentences…begin your sentences with "but" or "and"…or end your sentences with prepositions.
In addition, please note that I didn't say that you mustn't write proper English. Nevertheless, you must write just like you talk everyday – hence the conversational style in written form.
Focus on the readability of your content
Keep your sentences short and don't use big words, unless you work on technical content. Your content must be accessible to everyone, even to an elementary school pupil.
Ready to improve your content writing? Contact me!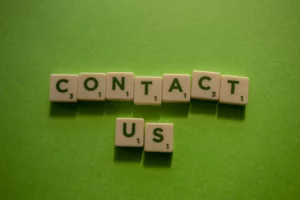 Do you want to take your content writing to the next level? Then, I am your go-to content writer! From blogs to e-books, I have significant experience to help improve your content writing. Therefore, I'll be able to help to reach your marketing goals. If you are interested in my content writing skills, feel free to contact me.